Commercial Epoxy Floors in San Antonio, TX
Epoxy is one of the recommended flooring options when looking for rigid anti-slip flooring for your commercial outlet. It is suitable for various applications ranging from commercial garages to industrial floors, retails, medical offices and hospitality outlets among others. Epoxy is made using resin and hardeners that result in a rigid plastic-like finish ideal for combating the wear and tear brought by traffic and/or chemical abrasion.
Epoxy flooring is also quite decorative and can be used to improve the aesthetic appeal of any room. At SATX Epoxy Floors, we strive to install the best epoxy flooring that will meet our clients' needs. Most contractors recommend commercial epoxy floors for a variety of reasons including;
Restaurants

Garages

Auto Shops

Schools

Factories

Government Buildings

Machine Shops
Retail

Gyms

Hotels

Medical Facilities

Warehouses

Industrial Facilities
Epoxy Garages

You can install epoxy flooring on your commercial garage to improve both durability and aesthetic appeal. It will form a rigid anti-slip surface that adds functionality and safety to your operations. Epoxy flooring is definitely among the top options for commercial garages where high traffic and staining can quickly damage concrete surface.

Industrial

Epoxy carries all the advantages concrete floors lack. They are soft, anti-slip, stain-resistant, moisture-resistant, non-porous and attractive. This is exactly what you need to combat the heavy foot and machine traffic in industrial buildings. It also reduces the effort spent cleaning stains.

Restaurant & Food Industry

The food industry is much more like the medical world where matters of hygiene play a very integral role n service provision. Epoxy flooring offers the ideal option that will keep your floors tidy and appealing while reducing the cleaning and maintenance effort. Epoxy is also durable enough to withstand the high foot traffic.

Retail

When installing retail store flooring, it is important to accommodate all the demographics visiting your outlet. This includes children, adults, seniors, wheelchair-bound customers and even pets. Epoxy flooring can help you design a safe aesthetic space for your customers while reducing the cleaning and maintenance requirement. You can also engrave your logos and brand color schemes to personalize the look.

Medical Facilities

As aforementioned, hospitals and restaurants have the highest need for safe clean flooring. Aesthetic appeal, durability and easy maintenance are equally important. Commercial epoxy flooring can be installed in any medical office and immediately improve the look and effectiveness of the space. Epoxy is a soft low-sound flooring that is perfect for medical facilities. It is also very easy to clean and sanitize.
Epoxy flooring is resistant to both abrasion and chemicals making it one of the most durable finishing for concrete floors. It is particularly great for high-traffic areas prone to abrasion.
Customize your epoxy to meet your unique style and needs. It comes in different colors, patterns and you can also include brand logos to personalize the look.
Epoxy floors do not threaten the environment in any way. They are easy to produce, renewable and do not require any chemicals or waxing to clean.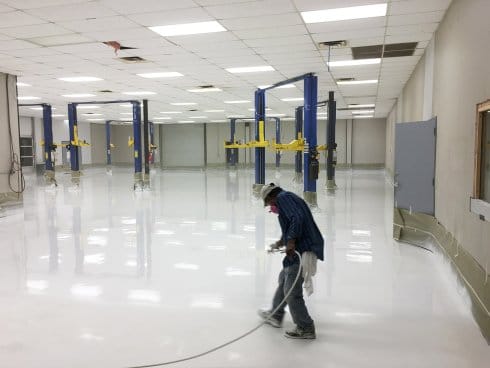 Call SATX Epoxy Floors For Professional Commercial Floors
Epoxy can be installed in any indoor space considering the level of customization and available options. You can trust SATX Epoxy Floors to install top quality commercial epoxy flooring that will meet your personal and business needs.